Camilli keeps his cool for WRC 3 win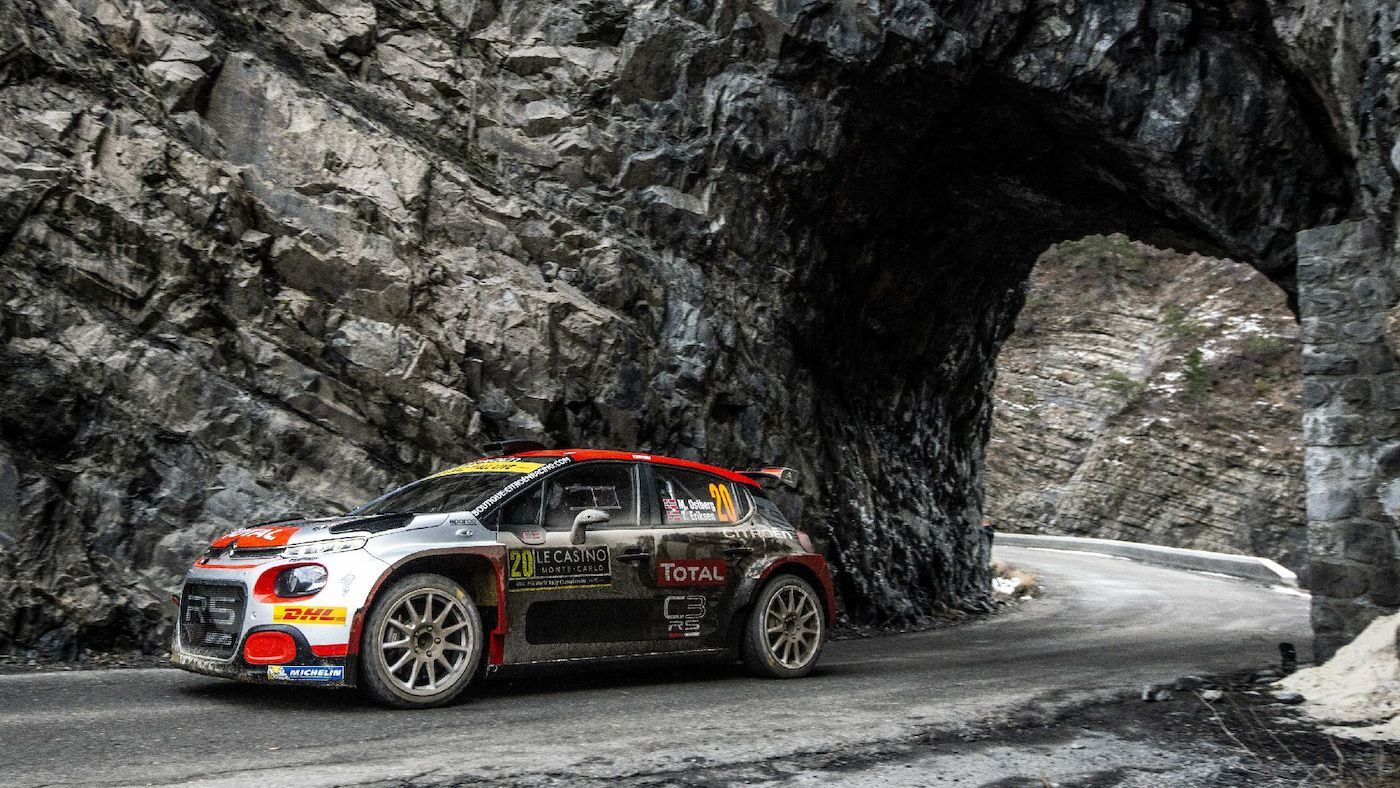 Mads Østberg started his 2020 season in the best possible way by taking victory in the WRC 2 category at Rallye Monte-Carlo.
The Norwegian star battled through numerous challenges, including a puncture on Friday morning and car setup issues on Saturday, to arrive at the finish in Monaco with a 3min31.4sec advantage over his nearest rival.
Celebrating a top result, he even took advantage of the opportunity to 'donut' his Citroën C3 in front of spectators during the rally-finishing Wolf Power Stage.
"We came here to win and I think we have proved that we have the pace - we were faster than everyone. We win our category, we are leading the championship and we are happy," said a delighted Østberg.
Ole Christian Veiby was Østberg's closest challenger for much of the rally and actually led briefly on Friday before he also suffered a puncture. However, his rally came to an abrupt end during Sunday's La Cabanette - Col de Braus stage when he crashes his Hyundai i20. With a wheel off and the car blocking the road, Veiby went no further and the organisers cancelled the stage for remaining crews.
Following Veiby's exit, Frenchman Adrien Fourmaux inherited the second-place. Whilst a Thursday night puncture cost him a better overall result, he took seven impressive stage wins in his Ford Fiesta.
Aside from mechanical maladies during SS10 on Saturday, Nikolay Gryazin enjoyed a drama-free run on his debut for the Hyundai team. The Russian youngster rarely put a foot wrong all weekend and was rewarded with third-place.
M-Sport Ford pilot Rhys Yates had an eventful rally as he tried to get to grips with the Monte conditions. He recovered from a visit to a French ditch on Saturday morning to finish fourth in his Fiesta.
WRC 3 was very much a French affair. Eric Camilli maintained the lead since Friday to finish with a 1min21.sec advantage over Nicolas Ciamin, who was driving a similar Citroën C3. As well as being the highest-placed R5 driver, Camilli claimed an impressive ninth overall.
"I am very happy - we were the fastest R5 car which is amazing," said the WRC 3 victor. "Thanks to Citroën and also my co-driver. It was his first Monte ever and he did a great job!"
Yoann Bonato was third in another Citroën, followed by French Tarmac champion Yohan Rossel who was 34.2sec further back.
Grégoire Munster was the only top-five driver not in a Citroën. A consistent drive throughout the weekend saw the 21-year-old claim fifth-place in his Škoda Fabia. วิเคราะห์บอล
พึงพอใจติดต่อมาและสอบถามข้อมูลอื่นๆพอดีไลน์แอด ID: @ufa98v2